Overview
For many students across the globe, accessing opportunities to further their education or achieve academic aspirations can be a daunting task. The cost of tuition, educational materials, and other expenses can present significant hurdles to attaining academic excellence, which can be especially true in developing countries. However, individuals and organizations alike are rolling out initiatives aimed at providing financial support to deserving scholars. Among such initiatives is the Dafe Akpedeye Essay Competition.
About the Dafe Akpedeye Essay Competition
The Dafe Akpedeye Essay Competition is named after one of Nigeria's most respected and celebrated Senior Advocates of Nigeria, Dafe Akpedeye SAN, who is renowned for his exceptional legal work and philanthropy. The scholarship is geared towards helping students pursuing a law degree by providing them with financial support to cover their tuition, accommodation, and other academic-related expenses. This initiative started in 2020.
The scholarship's impact is widespread, as it is open to students from all law faculties across Nigeria's universities. Candidates can apply for the scholarship once they have gained admission to study law and meet the other requirements. The application process is transparent, and potential recipients are chosen based on their academic excellence, financial need, and other criteria.
The Purpose of the Essay Competition/Scholarship
As we all know, the cost of pursuing a law degree in Nigeria can be astronomically high, and this is one of the reasons the DAFE AKPEDEYE SAN Scholarship was established. By taking care of the financial burden, the scholarship allows students to focus on achieving their academic goals without worrying about how to pay their fees. This support not only benefits the students and their families, but it also contributes to the development of Nigeria's legal profession.
The importance of the legal profession in Nigeria cannot be overstated. The country thrives on the rule of law, and lawyers play a pivotal role in the country's justice system. Therefore, there needs to be a steady stream of well-educated and competent legal practitioners to ensure that the justice system continues to function optimally. The Dafe Akpedeye Essay Competition plays a significant role in facilitating this by providing an opportunity for talented and deserving individuals to pursue their academic dreams.
Beyond the financial support, the scholarship also provides opportunities for students to receive mentorship and guidance from successful lawyers, including Dafe Akpedeye himself. Students can learn from the experiences of legal professionals and gain insights that will help them excel in their academic and professional pursuits.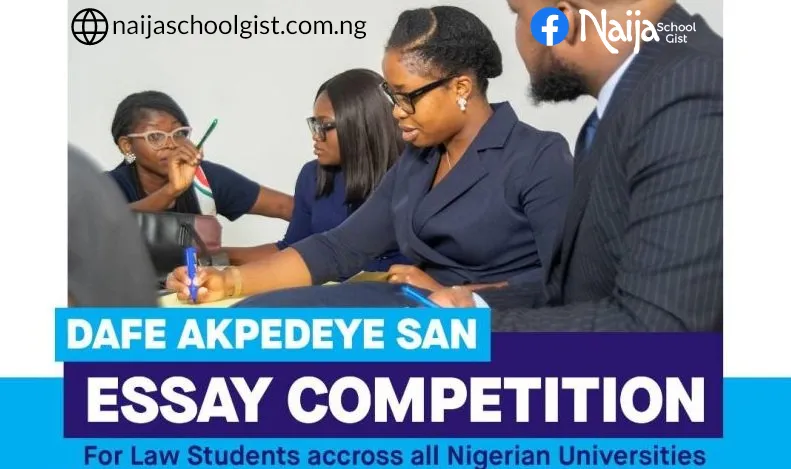 Another exciting aspect of the scholarship is that it has a ripple effect on the community. By supporting students' academic aspirations, the scholarship contributes to breaking the cycle of poverty prevalent in some areas. It also inspires younger individuals to aim for academic excellence, showing them that with hard work, focus, and dedication, they too can achieve great things.
In conclusion, the DAFE AKPEDEYE SAN Scholarship is a beacon of hope and a lifeline for many Nigerian law students. It provides financial assistance, mentorship, and other resources to help deserving students pursue their academic aspirations. With this initiative, many students can achieve their dreams and break through the financial barriers that would have traditionally held them back. The scholarship also serves as a reminder to all of us that there is still much that can be done to support the underprivileged and provide opportunities for academic growth and personal development.
Scholarship Worth
Successful participant in this essay competition would be compensated with a sum of Five Hundred Thousand Naira (N500,000).
Essay Topic:
Artificial Intelligence and the Law: Analyzing the Impact of ChatGPT on Privacy and Data Protection Laws
Guildlines for Dafe Akpedeye Essay Competition

You must currently be studying Law in any Nigerian university.
Essay must not be above 2000 words, and should be written in TIMES SQUARE ROMANS (font size: 12)
Cross check your essay, and make all necessary corrections, be sure to fill in all the details necessary.
Avoid plagiarism, and make sure you write in English.
Maxims or quotes from other languages should be in italics.
Acceptable formats for submissions are: Microsoft Word document (.doc or docx) or in PDF format (.pdf). N.B: If the file you submitted can't be opened it will not be considered.
Entry must strictly be on the theme provided.
Make sure to have a personal copy of whatever you submit.
After submission, you must upload a 90 seconds video stating what the experience has been writing on the essay theme.
Every entrant must upload the video to at least one of the following social media platforms – Facebook, Instagram or LinkedIn tagging Compos Mentis Legal Practitioners.
Application Timelines
Application opens: 4th day of March 2023
Application Deadline: 11th day of April 2023 by 11:59pm
Announcement of Winners: 16th day of May 2023.