Application for the annual Solomon Ehigiator Arase Scholarship is currently ongoing for 2023. The Solomon Ehigiator Arase Foundation (SEAF) is inviting eligible students for scholarship awards to indigenes from the Edo South Senatorial District and Children of Inspectors and Rank File of the Nigeria Police Force who died during fighting crime.
About Solomon Ehigiator Arase
Solomon Ehigiator Arase is a retired Nigerian police official who was born on June 21, 1956, in the Owan West Local Government Area of Edo State, based in Southern Nigeria. He went to Ahmadu Bello University as a college student getting his undergraduate studies where he earned a political science degree. A year after he made his entrance into university – precisely on December 1, 1981 – he was enlisted in the Nigerian Police Force. Moreover, he also secured another four-year bachelor's degree in Law from the University of Benin.
Solomon Arase is now acting as the Chairman of the Nigeria Police Service Commission. President Muhammadu Buhari offered him the position on January 2023 as a replacement for Suleiman Abba. While listed as the eighteenth Inspector General of the Nigerian Police Force, he heads a distinguished rank to control the Criminal Intelligence and Investigation Bureau of the federation.
Aims and Objectives of the Foundation (SEAF)
To work with local/foreign partners and institutions to address the needs of the security and administration of justice.
To collaborate with law enforcement agencies and other relevant MDAs to build capacity in security agents through the organization of workshops and conferences in areas of fundamental human rights compliance.
To provide educational opportunities for the less privileged in the society including children of police personnel.
To provide free legal service to the indigent members of the society who are victims of human rights violations, domestic violence and sexual exploitation.
About Solomon Ehigiator Arase Scholarship
The purpose of the scholarship is to promote academic excellence and prepare you as a role model to the youths and the society at large. The selection process for Solomon Ehigiator Arase is a bit rigorous and is based on merit. Furthermore, winners are expected to be good ambassadors of the Solomon Ehigiator Arase Foundation.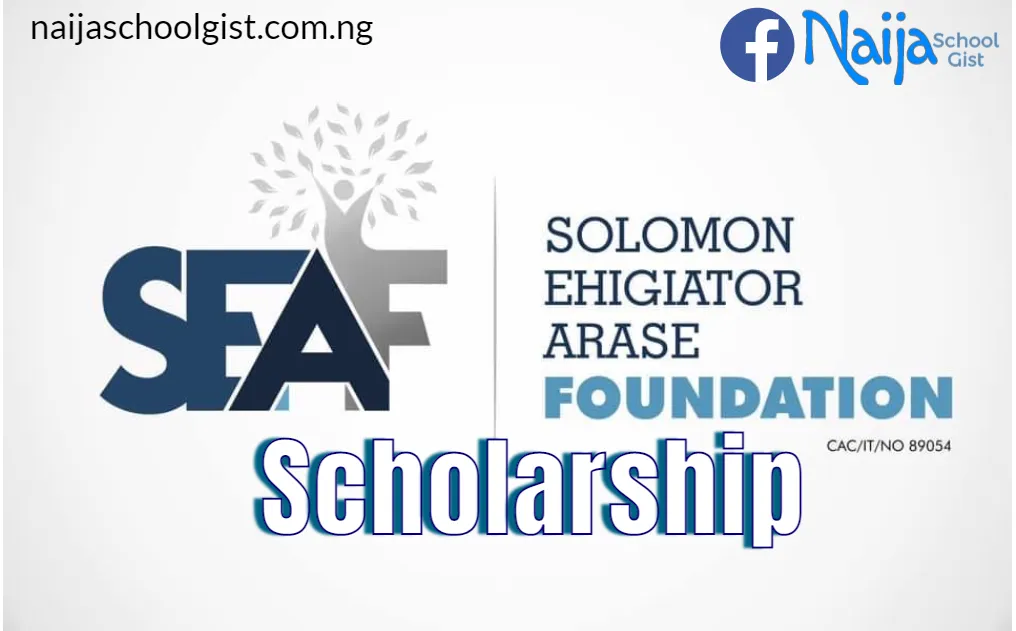 Terms of the Award
The terms of award for the scholarship are:
1. Character and Discipline: You must be a fit and proper person, particularly:
To maintain, at all times, the highest level of exemplary character and discipline;
Avoid any activity capable of embarrassing the Foundation
2. Academic Excellence: You must consistently maintain in your examinations, a minimum
G.P.A of 3.0
3. Community Service: That you will participate in community service when called upon in
which the Foundation is involved.
NOTE: The Board of Trustees reserves the right to stop your scholarship for breach of any of the
above terms.
Eligible Disciplines for Solomon Ehigiator Arase Scholarship
All applicants must be undergraduates currently in 200 level or 2nd year in any public university. Additionally, they must be studying any of the following disciplines:
English
Law
International Studies
Agriculture Science
Home Economics/Catering & Hotel Management
Security/Humanitarian Studies
Application Deadline
The ongoing application closes on the 30th of April, 2023. Meanwhile, applications submitted after deadline will NOT be accepted.
Applications should be submitted at:
Solomon Ehigiator Arase Foundation
17 Sakponba Road, Benin City,
Edo State, Nigeria.
Applications can also be made online: solomonehigiatorarasefoundation.org
For further enquiry, please call: 0803 453 4144, 0814 940 2465, 0903 522 8269.